THE UK'S LARGEST INDEPENDENT
Alfa Romeo SPECIALIST
Careers with Autolusso
If you are interested in becoming part of the Autolusso team, please email your CV to ned@autolusso.co.uk
WORKSHOP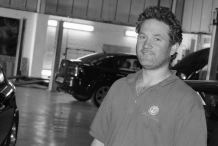 Ned Kirkham
Ned is very knowledgeable with all things Alfa, previously he was involved in importing thousands of new Alfa Romeo cars into the UK and while doing this developed a unique knowledge of the brand. Ned is Director of the company and also runs the workshop, he is always ready to help and give advice about your Alfa Romeo. Ned also carries out most of our "Saturday Surgery" appointments.
Alfaowner.com user name: Autolusso

Wayne Nash
Wayne is our workshop manager and has been qualified to the highest standard by Vauxhall and is ideally positioned with experience of the later GM derived Alfa Romeo petrol engines and gearboxes, he is also incredibly competent in diagnosing complicated electrical issues. As well as being our V6 engine rebuild specialist, Wayne is our re-mapping genius here at Autolusso. Wayne has been very accurately nick named 'Wayne The Brain' by many of our customers.
Qualifications: City & Guilds Level 1, 2 & 3; NVQ Level 1, 2 & 3; GCSE Qualification in Motor Vehicle Studies; Gold Level Qualification at Vauxhall.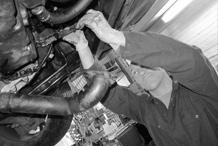 Jason (Bob) Webber
Jason is a fully qualified level 3 technician as well as a VOSA approved MOT tester. Jason is a very skilled welder and has become particularly knowledgeable when it comes to the later Alfa Romeo diesel engines and the common issues that they have. Although Jason does love his Italian cars he has a keen interest in American muscle cars and has carried out many classic American restorations.
Qualifications: NVQ Level 3 qualification in Motor vehicle engineering and is a fully qualified MOT tester.

Craig Rumball
Craig is a fully qualified level 3 technician who has a genuine love for all things Alfa. Craig is very skilled on our new Injector machine where he can clean and test all petrol injectors. Craig carries out all of our 159 / Brera Powerflex jobs and is also our in car entertainment system specialist here at Autolusso. So if you are looking to upgrade your sound system or want to enable Ipod connect, Craig is your man!
Qualifications: NVQ Level 3 & Level 3 Technical Diploma

Lewis Burton
Lewis is our longest serving member of staff here at Autolusso although he did go to Australia for 2 years to share his knowledge of the Alfa brand after completing his apprenticeship with us. Lewis is now back with the Autolusso family and is carrying out all forms of servicing and repair work as well as being a VOSA approved MOT tester. Lewis is a very likable lad with boundless levels of enthusiasm which along with the very high level of work that he delivers makes him very popular with all of our customers here at Autolusso.
Geoff Macauley
Geoff is our senior MOT tester here at Autolusso and is a highly trained level 3 technician after he served his apprenticeship with us. Geoff's high quality of work and attention to detail in every job he does is what makes him such a key member of staff here at Autolusso. Geoff has been with the company for many years now and has got a large amount of knowledge when it comes to the Alfa Romeo models.
Lee Greenwood
Lee is our newest member of staff here at Autolusso and he is already showing that he is going to be a key member of the Autolusso team with his positive attitude and his ability to find a solution to any problem he encounters. Lee is a fully qualified level 3 technician and a VOSA approved MOT tester.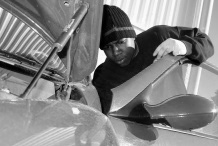 Ethan Crawford
Ethan is the youngest member of our team but has been with us for over 5 years now and in that time he started out as a vehicle dismantler whilst doing his Level 1 & 2 qualification at college. During this time he became very capable at taking apart old Alfa's and at stripping engines for parts, using his knowledge of the brand and his hunger to learn he has since started working in our workshop carrying out servicing and various other repair jobs in order to complete his Level 3 qualification.
Qualifications: NVQ Level 2

RECOVERY
Dale Gardener
Dale drives both of our recovery trucks and is out on the road all day collecting broken Alfa's and bringing them back to be fixed. Dale is our oldest member of staff and was employed for his careful and steady manner. Dale treats all our customer's cars as if they were his own. Dale is also the building manager here at Autolusso so he is in charge of any repairs or changes that need to happen to our building.
PARTS
James Lord
James runs our very large parts department. He started off by selling new parts, organising the parts stock room and helping to run the workshop alongside Ned. He has picked up a fair amount of knowledge along the way and has continued to extend his knowledge by merging our new parts department and used parts department into one entity.
Liam Burke
Liam will look after your parts enquiries and he also runs our eBay shop. Liam is a qualified level 2 technican and over the years has picked up a lot of knowledge about Alfa Romeo parts so he will be happy to assist with any enquiries that you may have.
Luke Langley
Luke looks after 3 floors of used parts racking covering a total of 10 thousand square feet, he spends his time picking and packing orders; how he knows where everything is located is a mystery to the rest of us.
THE DOGS
Squidge, Honey, Bow, Pablo, Boo, George
These are just some of the dogs you might see 'guarding' the office. They don't get much work done during the day and their attendance isn't the best but they are always a welcomed member of the team and as you can see from the photo they dress to impress.