THE UK'S LARGEST INDEPENDENT
Alfa Romeo SPECIALIST
Careers with Autolusso
If you are interested in becoming part of the Autolusso team, please email your CV to ned@autolusso.co.uk
WORKSHOP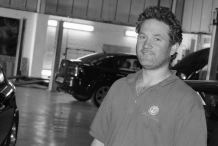 Ned Kirkham
Ned is very knowledgeable with all things Alfa. Previously he was involved in importing thousands of new Alfa Romeo cars into the UK and while doing this developed a unique knowledge of the brand. Ned is Director of the company and also runs the workshop. He is always ready to help and give advice about your Alfa Romeo.
Alfaowner.com user name: Autolusso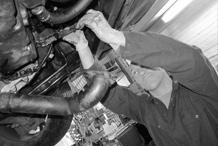 Jason (Bob) Webber
Jason is a fully qualified level 3 technician as well as a VOSA approved MOT tester. Jason is a very skilled welder and has become particularly knowledgeable when it comes to the later Alfa Romeo diesel engines and the common issues that they have. Although Jason does love his Italian cars he has a keen interest in American muscle cars and has carried out many classic American restorations.
Qualifications: NVQ Level 3 qualification in Motor vehicle engineering and is a fully qualified MOT tester.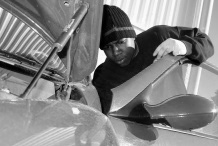 Ethan Crawford
Ethan is the youngest member of our workshop team. He has been with us for over 5 years, starting as a vehicle dismantler whilst doing his Level 1 and 2 qualifications at college. During this time he became very capable at taking apart old Alfas and stripping engines for parts. Using his knowledge of the brand and his hunger to learn he started working in our workshop carrying out servicing and repair work, and has now completed his Level 3 qualification. He has also become an approved MOT tester recently
Qualifications: NVQ Level 3 technician and VOSA approved MOT tester.
Layton Langley
Layton joined Autolusso in 2011 as a vehicle dismantler, which is why he knows so much about every model of Alfa. He qualified as a technician a couple of years ago and is now an invaluable member of the workshop team. He is now completing his Level 3 qualification.
Qualifications: NVQ Level 2 technician




Dave Taylor
Dave is the most recent addition to our team of skilled technicians. His previous experience includes working on most makes of German cars as well as Fiats. In these previous roles he has specialised in diagnostics, something he is continuing here at Autolusso. In his spare time Dave is keen on keeping fit and is a regular at his local gym.
Qualifications: NVQ Level 2 technician
RECOVERY
TBC
Information to follow
PARTS
Liam Burke
Liam will look after your parts enquiries and he also runs our eBay shop. Liam is a qualified level 2 technican and over the years has picked up a lot of knowledge about Alfa Romeo parts so he will be happy to assist with any enquiries that you may have.
Luke Langley
Luke looks after 3 floors of used parts racking covering a total of 10 thousand square feet. He spends his time picking and packing orders, but how he knows where everything is located is a mystery to the rest of us.
THE DOGS
Squidge, Honey, Bow, Pablo, Boo, George
These are just some of the dogs you might see 'guarding' the office. They don't get much work done during the day and their attendance isn't the best but they are always a welcomed member of the team and as you can see from the photo they dress to impress.