Media & news
Latest news
2 August




Houghton Regis Classic and Vintage Motor Show on Sunday 4th September




We are proud to announce that Autolusso is sponsoring the Classic and Vintage Motor Show that's part of Houghton Rocks on Saturday 4th September. The show starts at 12.00, with judging and prize-giving at approximately 3.00pm, at Parkside Drive Recreation Ground, Houghton Regis, LU5 5RA

.
We hope that many of our customers and friends will come along to support this event.
If you would like your car to be part of the show then please email sarah.gelsthorp@houghtonregis.org.uk for an entry form, or just contact us and we'll send you the link to the form. It's free to enter!
Autolusso will have a stand at the event and will be displaying some of Ned's wonderful classic cars... so come and say hello. We look forward to seeing you there.
19 July
New Air Conditioning page added to website
Now that Summer is here we are receiving many enquiries about servicing and repairing air conditioning systems, and so we have added a new page to our website. At Autolusso we can service systems with either the new R1234YF refrigerant or the older R134A refrigerant. Please go to 'Services' then 'Air Conditioning' for more information.
7 May
20th anniversary of the Alfa Romeo 147 winning European Car of the Year
20 years ago the Alfa Romeo 147 was voted the 2001 European Car of the Year, beating the Ford Mondeo to this prestigious accolade by a single point.
The Alfa 147 was introduced at the Turin Motor Show in June 2000

,

and remained in production for 10 years, reaching a final volume of 580,000, before it was replaced by the Giulietta in May 2010.
During its 10 year life, the 147 was available with 4 engine options, namely the 1.6 litre twin spark, 2.0 litre twin spark, 3.2 litre V6 and 1.9 litre turbo diesel. The 147 was face-lifted at the end of 2004, and the final iteration of the model, the limited edition Ducati Corse, was launched at the 2007 Bologna Motor Show.
Autolusso is proud to be one of the UK's leading Alfa Romeo 147 specialists. We have serviced, repaired and modified hundreds of these wonderful hatch-backs over the years, and we are still doing so today. In fact, we have already had 20 different 147s in our workshop this year, and we look forward to continuing to work on these great cars long into the future.
22 April
Importance of car servicing post-lockdown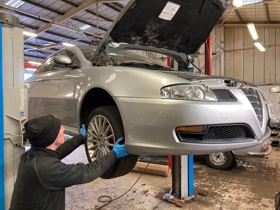 As lockdown restrictions ease and many of us start to travel more, it is important to ensure vehicles are in good health. The fact a car may have done low mileage over recent months does not mean that service intervals can be stretched. Indeed, not using a car may reduce the life of some components. As an example, limited engine running can lead to air filters absorbing moisture from condensation, which reduces filtration capacity.
In addition, a recent article in the journal "Autotechnician" highlighted that limited use and short trips do not allow engine oil to reach operating temperature, and "if oil does not become sufficiently hot, water and petrol contamination cannot evaporate from it. This situation promotes oil oxidation, a consequence of which is thickening. The resultant increase in viscosity reduces oil flow, meaning it takes longer for lubricant to reach moving parts, especially from a cold start".
As a consequence, please do not delay having your car serviced.
19 April
Annual RAC Audit - Autolusso achieves 100%

As an RAC Approved Garage, Autolusso is subject to a comprehensive onsite audit of its premises, work quality, operating practices and compliance every year. This is to ensure that the high standards required by the RAC are maintained. It is also a requirement under the RAC's obligations for Chartered Trading Standards Institute approval.


This year's audit of Autolusso was conducted on 9 April, and we are delighted to report that we passed again with flying colours.... with a score of 100%. This means that, as stated by the RAC, "consumers have the additional protection that the service they will receive at an RAC Approved Garage is guaranteed to be of a professional and high standard".
9 April
Autolusso supports new motorsport website
Autolusso is pleased to support
www.hillclimbing.org
, a new website that details all current class records at speed hillclimb tracks, including famous venues such as Shelsley Walsh, Prescott, Gurston Down and Harewood. Achieving a class record at one of the UK's hillclimb courses requires considerable effort, and so
www.hillclimbing.org
aims to recognise and celebrate all record holders.
Autolusso prepared cars have competed successfully in speed hillclimbs for many years, and our highly-modified Alfa Romeo 156 GTA is a current class record holder at Harewood, the UK's longest hillclimb course.
To find out more please visit
www.hillclimbing.org



19 February
Autolusso passes the IGA Covid-19 Compliance Audit
We are pleased to share the news that today we passed the Independent Garage Association's Covid-19 Compliance Audit, meaning that we are certified as complying with the government's guidance on managing the risks associated with Covid-19.
It remains important to everyone at Autolusso that we continue to do our utmost to keep our customers and staff as safe as possible, and so we requested this audit to check that we have all the correct safety measures in place. We were therefore delighted when we passed this morning's audit, along with receiving some excellent feedback from the inspector on all the measures we have in place.
4 January
We are open
Autolusso is now open again after the Christmas holidays and we have availability for MOTs, servicing and repairs. Please note that we continue to operate with all the additional safety measures in place, so as to protect our staff and our customers.
11 December
Christmas and New Year opening
We would like to inform our customers that we will be closing for the Christmas break on Thursday 24 December and re-opening on Monday 4 January.
We look forward to seeing you and your cars next year. We have some exciting plans for 2021... so watch this space!
In the meantime, Ned and the team at Autolusso would like to wish all our customers Merry Christmas and Happy New Year.
7 December
Pride of Houghton
We have been informed that Autolusso has been nominated for the annual Pride of Houghton Awards.
Run by the town council, the Pride of Houghton Awards are designed to honour individuals, groups and orgainsations that have gone beyond the call of duty to support the local area. We are delighted that Autolusso has been nominated in the 'Local Business' category.
We will know the results early next year.
27 November
End of lockdown update for Autolusso customers
Houghton Regis, along with the rest of Bedfordshire, will be in tier two when England's lockdown ends on 2 December. Consequently,
Autolusso will remain open with all our current additional safety measures in place so as to protect our staff and our customers.
In addition, we would like to remind people of the importance of ensuring that MOT tests are completed before their vehicle's current MOT expires. We have received many calls recently from car owners with expired MOTs. Please remember that vehicles without a valid MOT cannot be driven on the road unless on the way to a garage for a pre-booked MOT appointment. So if your MOT is due or overdue then please give us call on 01582 869560.
13 November
Classic and Competition Car magazine
Autolusso's classic GTAm competition car is pictured in the latest edition of 'Classic and Competition Car' magazine (edition 121, October 2020) competing at a recent event at the Curborough sprint course in Staffordshire. The car finished second in the Classic Racing Car class.
As you can see from the picture, sprint events attract a wide variety of cars!
Click on the link to view or download the free magazine.
https://classicandcompetitioncar.com/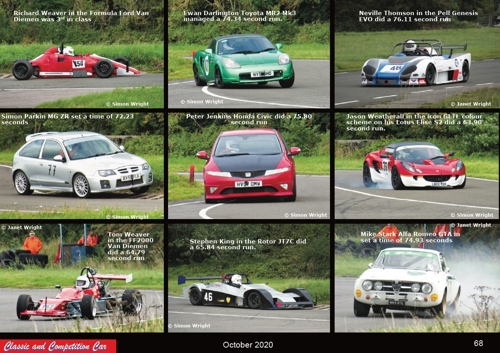 6 November
We are open!
Autolusso will remain open in November, as it is important that our customers' cars are well maintained and roadworthy, especially as we head into the winter months. Also, there is no extension to MOTs during the current lockdown, and so if your MOT is due then just give us call.
For any customers who need financial assistance during this difficult time we can offer Payment Assist, an interest-free way of spreading the cost of car repairs. We can also offer
the RAC's Free MOT Assist, a scheme only available at RAC Approved Garages.
To make a booking please call us on 01582 869560
2 November
Introducing Free MOT Assist


As an RAC Approved Garage, Autolusso is pleased to offer its customers the RAC's Free MOT Assist*. This scheme is only available at RAC Approved Garages and offers up to £750 towards parts and labour of any work required on your car at its next MOT.
Here's how it works;
1: Have your car serviced at Autolusso, at which time we'll check your car with a complimentary Vehicle Health Check
2: If work is required to qualify for MOT Assist we'll let you know - you can then decide if you want to have this work completed so as to qualify for the scheme
3: Have your car's next MOT at Autolusso, and if work is required to pass then you will receive up to £750 towards specific parts and labour
If you would like to take advantage of this offer then please let us know when you book your vehicle for its next service.
*Eligibility criteria;
1: You are a UK resident or UK registered company
2: Your vehicle is a UK-registered private car or light commercial vehicle below 3.5 tonnes
3: Your vehicle must be less than 10 years old, with less than 100,000 miles on the clock
4: Your MOT is not due within 90 days of your service
5: A Vehicle Health Check needs to be completed at the same time as the service, with any remedial work completed and paid for
19 October
Autolusso re-mapping
We are pleased to say that the improvements in power and torque achieved by the latest Autolusso re-maps are now available on our website for every model of Alfa Romeo Giulia, 4C, MiTo, Giulietta, GT, Brera, 147, 156 and 159. Here's the link;
https://www.autolusso.co.uk/egr-delete.html
Information on the re-mapping of other models is available on request.
So if you want to get the most out of your Alfa Romeo through one of our re-maps then please just contact us to make a booking.
16 October
Payment Assist

Autolusso is pleased to offer Payment Assist, which is an interest-free way of spreading the cost of car repairs up to the value of £1,000.
Pay 25% of the invoice when the work is completed

Pay the remaining amount over 3 equal monthly payments

Terms and conditions apply
Please ask for details
9 October 2020
Autolusso has a new look!
Last week our new 'front of house' signage was installed, reflecting that Autolusso is an independent RAC Approved Garage. This demonstrates that we meet the high standards required to be approved by the largest and oldest motoring organisation in the UK.
Autolusso remains a committed Alfa Romeo specialist, with a long history of servicing, repairing and modifying cars from this famous Italian marque. However, we also service and repair most other makes and models of car in line with RAC servicing recommendations, quality standards and pricing guidelines. Our new signage has been installed to reflect this.
We hope you like our new 'orange' look!