Hybrid turbos
(prices inclusive of VAT)
Prices
147 / GT CF4 - Hybrid Turbo supplied, fitted and Autolusso re-map: £1,100
147 / GT CF4 - Hybrid Turbo supplied £880 (inc £275 refundable surcharge) *This is based on your turbo being in good working order* Autolusso customised re-map: £440
GT1756V billet Hybrid Turbo
Custom 56mm extended tip billet compressor wheel
Cutback turbine wheel exducer blades
360 degree thrust assembly
Staggered gap oil seal
Unique VNT settings for maximum performance




Mito 1.4TB - Hybrid Turbo, modified catalytic converter and Wizard exhaust and Autolusso re-map: £2,475
Mito 1.4TB - Modified catalytic converter, catalytic converter, Wizard exhaust and Autolusso re-map: £1,375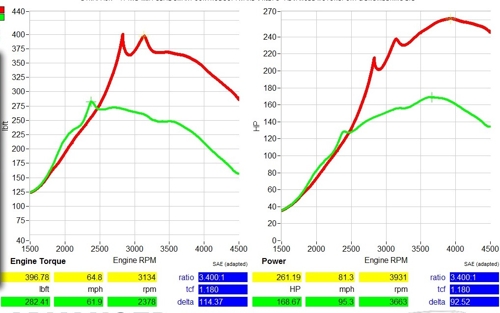 What is a hybrid turbo?
A Hybrid Turbo simply means a non-standard or potentially upgraded turbocharger. This consits of a turbo with combined parts from different frame sizes and potentially different manufactures, such as Garrett or BorgWarner to make the ultimate performance turbo.
The basic idea is to get more flow from the turbocharger at a given rotor speed, this can be achieved in various ways from larger or more efficient compressor wheels, higher flow compressor covers with a larger A/R, cut back turbine blades and larger A/R turbine housings etc.
Simply "winding the boost up" is not the answer. Yes, in most cases it will give you more power but what are you doing? If you take a standard turbocharger and increase its boost pressure output you are doing two things that are or can be detrimental to the turbo and/or engine.

Firstly, you are making the turbo work harder/spin faster to make that extra pressure. The turbine is rated to rotate at a maximum reliable speed. Spinning it faster could take you outside that zone and then you can run the risk of turbine blade failure. Running the compressor wheel faster will certainly give you more flow and pressure but at the expense of a lower efficiency and therefore a higher charge temperature. This can cause a higher likelihood of pre-detonation and limit power output. A hybrid turbo, if designed properly, will allow the extra flow and pressure to be achieved at a safe and reliable turbine speed and at higher compressor efficiencies.
So, more flow means more air, hopefully at a cooler temperature, which you can then add more fuel to and therefore produce more power!
Many people including some tuners become obsessed with 'boost' whereas the reality of professional tuning is all about flow through the engine.
But not all hybrids are that good! If you're a person who likes to shop around and you find wildly differing prices, be warned, whilst there are occasionally bargains around when buying turbochargers, with Hybrids you do get what you pay for. Find out exactly what you are being offered for your money.
What do we offer?
Here at Autolusso we are able to offer an incredable combination deal for the Alfa Romeo 1.9 CF4 (147 / GT 2006 onwards) engines consisting of a Hybrid turbo supplied and fitted along with a customised Autolusso re-map and EGR Delete.
MiTo hybrid turbo
The Alfa we have used as our base car is a Mito 1.4TB 155 bhp Veloce, we have fitted a Turbodynamics Hybrid turbo, a modified catalytic converter and a hand-made big-bore exhaust system crafted by the legendary "Wizard". The vehicle was then tested extensively on a Dyno Dynamics rolling road to develop a reliable 195-200bhp. We have tested this car to the safe recommendations of Turbodynamics and from the power graphs shown below you can see significant power and torque increases, which are achieved by using only 18 psi of boost. It is possible to run the turbo at upto 25 psi and this will give power of over 225 bhp but this is not recommended as it may reduce the life of your engine without using other supporting modifications.
Our conversion will cost you £2,250 inc VAT and can be done in a single day, we will need notice that you want the work doing so we can get all the parts built and ready.
We can also offer a version of this upgrade without the Hybrid Turbo which will give significant increases in power. The cost of this conversion is £1,250 inc VAT and for this you get the same modified catalytic converter, the same hand-crafted "Wizard" exhaust and a bespoke rolling road remap.
We build these conversions and the customer is welcome to come along to the rolling road to see the genuine before and after result.