Powder coating
(prices inclusive of VAT)
What is powder coating?
Powder coating is a dry finishing process, using finely ground particles of pigment and resin that are electrostatically charged and sprayed onto electrically grounded parts. The charged powder particles adhere to the parts and are held there until melted and fused into a smooth coating in a curing oven. Before coating, the parts to be coated are first pre-treated similarly to conventional liquid coated parts. The pre-treatment process is conducted in series with the coating and curing operations.
Brake calipers
We can supply and fit 4 powder-coated brake callipers to any Alfa Romeo. The powder-coated callipers are not lacquered and will stand the test of time, unlike the original painted & lacquered callipers. Prices are as follows: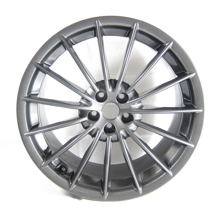 156, 147, GT, GTV - 1.6, 1.8, 2.0 TS or JTS, 1.9 JTD, 2.4 JTD andf 2.5 V6 - £300 for a full set of 4.
156 GTA, 147 GTA, GTV 3.0 and 3.2, GT 3.2 - £400 for a full set of 4, or £250 for front only.
159, Brera and Spider - £400 for a full set of 4.
Wheel refurbishment
For £350 you can transform your old scuffed and kerbed alloy wheels into these beautiful examples!
You can choose whatever colour you want and because of the powder coating process your wheels will last longer than the standard wheel refurb process.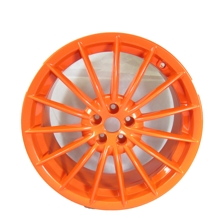 We have many wheels in stock and can offer this service as an exchange while you wait. If we dont have the right wheel in stock for you, we can loan you a set of wheels whilst we get yours refurbished.
Our wheel refurbishment service is more than just applying a layer of fresh paint to make your wheels look pretty, Our refurbished wheels are stripped of the old paint and lacquer (so we are not repainting over any old paint or a poor surface) using a high powdered aqua blaster, any kerbing damage is removed and any holes are filled in and corrected using hand tools, the wheels are cleaned thoroughly, The wheel is then placed in placed in an oven at 200 degrees, this is to burn off any left over contaminates. degassed to open the pores of the wheels and allow any trapped air to escape, Once this is done the wheel is finally ready to begin the powder coating process. A layer of powder coated primer is applied and left in the oven again to allow it to settle and give a smooth finish. A base coat and lacquer is then applied and left to settle before placing it back in the oven for its final curing.
The beauty is you choose the colour and style of finish!
Set of 4 refurbished alloy wheels - £350
Engine bays and associated components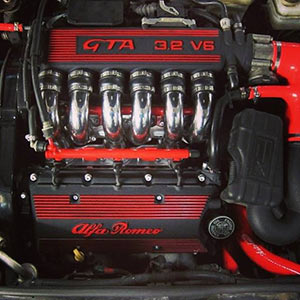 We have seen many cars come in and out of our workshop and we always try to ensure that they do not only leave here running well but looking fantastic as well. Because of this we are able to offer a powder coating service to the V6 engine bays.
We strongly advise getting this done whilst you are having your cambelt replaced, as the majority of the covers will be removed during this time anyway.
You can choose from having you engine covers / plenums coated in whatever colour you believe suits your car best, although our most popular choices are usually red, silver and black covers.
Customers often choose colours that match the body work of their Alfa and a colour that will partner one of our silicone induction hoses well. (These are available in red, black and blue on our online shop).
If you are interested in having this service then please contact us on 01582 869560 or email Ned@Autolusso.co.uk for an estimate.