Exhausts
(prices inclusive of VAT)
Wizard
Wizard Exhausts are hand-crafted, so they look beautiful as well as sound wonderfull. This is the exhaust system that we highly recommend at Autolusso.
Wizard are able to supply exhaust systems, manifolds and much more. Each exhaust is hand crafted and manually checked to ensure it is of the highest quality.
If you are interested in a Wizard exhaust system for your car please either give Ned a call on 01582 869560 for more infomation.
Scorpion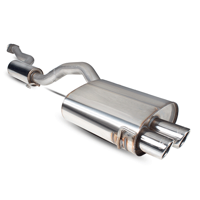 Each exhaust is hand crafted in England by the same technicians who create factory systems for high profile car and bike race series, including the British Superbike Championship.
Half Systems
Want to extract a little more power from your car? A half system is the perfect compromise, leaving the factory catalysts (where fitted) in place and bolting directly to the OEM system. Most of our half-systems delete the centre silencer, for improved gasflow and sound, but leave the car fully road legal and MOT ready.
Rear Silencer
The perfect first mod for any vehicle, or those looking to keep on the right side of a new car warranty. Our extensive range of hand-fabricated back boxes are precision engineered here in the UK to offer a perfect fit onto your OEM exhaust, as well as most quality after-market systems.
Sports Catalyst/De-cats
A catalyst is a key component in emission control. It is also the most restrictive component of an exhaust. Our Sports Catalysts increase the gas flow while maintaining filtration rates. Our De-cats simply replace the catalyst altogether for the ultimate flow rate.