Engine modifications
(prices inclusive of VAT)
GTA 3.2 litre to 3.8 litre conversion
The first thing to say about this conversion is that it is not for everyone; this is really for the owner who wants to get the most out of their GTA or GTV, and keep it long-term. This conversion gives massive increases in torque and driveability from Alfa's legendary V6 engins.
We have designed and built our own forged pistons which are perfectly balanced for optimum performance and durability.
Our liners are built for us by a local company that specialises in aerospace and weapon technology. They make our liners to the highest possible standards.
The head gaskets we use are made specifically for this application and again are made to the highest possible standard.
The machining work to the cylinder block and heads is extremely specialist; it involves moving the water ways and increasing the size of the combustion chambers, this work alone costs well over £2,200.
Cylinder liner gaskets have been specifically designed for this application to seal the steel liners into the aluminium cylinder block.
This a bespoke engine conversion, with no two units identical. Each engine is developed and built to the customers individual specification.
We can supply and fit, or supply built engines - please phone for more information.
MiTo hybrid turbo
The Alfa we have used as our base car is a MiTo 1.4TB 155 bhp Veloce. We have fitted a Turbodynamics Hybrid turbo, a modified catalytic converter and a hand-made big-bore exhaust system crafted by the legendary "Wizard". The vehicle was then tested extensively on a Dyno Dynamics rolling road to develop a reliable 195-200bhp. We have tested this car to the safe recommendations of Turbodynamics and from the power graphs shown below you can see significant power and torque increases, which are achieved by using only 18 psi of boost. It is possible to run the turbo at upto 25 psi and this will give power of over 225 bhp but this is not recommended as it may reduce the life of your engine without using other supporting modifications.
Our conversion will cost you £2,475 inc VAT and can be done in a single day, we will need notice that you want the work doing so we can get all the parts built and ready.
We can also offer a version of this upgrade without the Hybrid Turbo which will give significant increases in power. The cost of this conversion is £1,375 inc VAT and for this you get the same modified catalytic converter, the same hand-crafted "Wizard" exhaust and a bespoke rolling road remap.
We build these conversions and the customer is welcome to come along to the rolling road to see the genuine before and after result.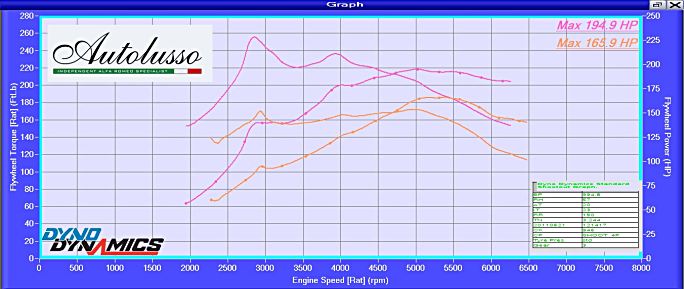 Rolling road
We use a state-of-the-art Dyno Dynamics rolling road to accurately measure the torque and power outputs of all Alfa Romeos and air/fuel ratios under varying engine speeds and loads. Fuelling and ignition timing can be adjusted to improve performance, driveability and fuel economy on both petrol and diesel models. Remaps can be performed on Alfas fitted with standard engines, and they are essential on Alfas that have been modified, such as our big-bore 3.8 GTA conversions, our MiTo/Giulietta hybrid turbo conversions and diesels with the Exhaust Gas Recirculation (EGR) valve disabled.