Autolusso in motorsport
Autolusso's passion for high performance cars and high-quality engineering is demonstrated by its involvement in motorsport.
As well as supplying a number of parts to many competitors throughout Europe, Autolusso has also been involved directly in motorsport since Ned raced a Chevrolet Camaro back in the early 2000s. Interestingly, Ned still owns this car and it is currently being prepared to go back on track.





From 2010 to 2017 Autolusso prepared the Alfa Romeo 147 Ducati Corse of Mike Stark, which was campaigned successfully in sprints and hillclimbs around the UK.
In this car, Mike achieved numerous class wins and also won the Alfa Romeo Owners Club Speed Championship in 2011, the British Automobile Racing Club Speed Championship (Road-Going) in 2014 and the Alfa Romeo Owners Club Victor Ludorum in 2015.





In 2018 Mike switched to a highly modified Alfa Romeo 156 GTA built by Autolusso. The car weighs nearly 500kg less than the original 156 GTA donor car, and with a 3.8 litre engine and Quaife sequential gearbox it is an awesome track car.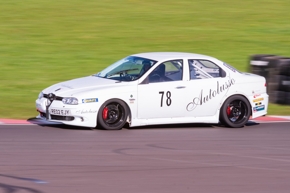 In its first year of competition it won the Modified Production Over 2000cc class at the inaugural Coventry MotoFest sprint. This was followed in 2019 with several class wins, including at 'La Vita Rossa' at Prescott Hillclimb. The car also broke the Alfa Romeo class record at Harewood Hillclimb.




Barry McMahon's Alfa Romeo 156 race car also carries the Autolusso name on it, with Autolusso having supplied several parts as the car has been developed over recent years into one of the fastest racing Alfas in the UK.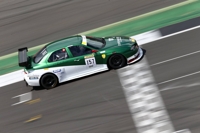 This car now runs with a turbo-charged Giulietta engine and an advanced aero package, and has achieved numerous outright and class wins in both the Alfa Romeo Championship and the Britcar Endurance Championship.






More recently, Autolusso has also moved into classic motorsport, with Ned acquiring a beautiful Alfa Romeo GTAm competition car for use in classic events.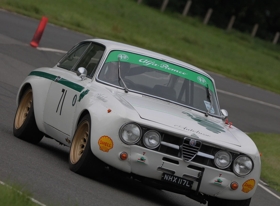 This car started life as a 1972 Alfa Romeo GT 1600 Junior, and was converted to GTAm specification in the late 1990s and then campaigned in the Top Hat Classic Touring Car Series. Since acquiring this car, Mike has competed with it in several sprint events in 2020 and then Ned has raced it in 2021 in the HRDC's Classic Alfa Challenge.






If you compete in motorsport with an Alfa Romeo and would like help with parts, modifications or preparation then just give us a call to discuss how we can help.